Public Transportation Routes to Office
CalTrains Station: Belmont.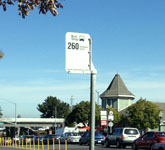 From the Belmont CalTrains station, take the westbound SamTrans 260 for 1.2 miles. The bus comes every half an hour. Alternatively, skip the bus and take the walk up Ralston Ave (a 20 to 30 minute walk).
From other locations (San Mateo, Redwood City, Menlo Park), the SamTrans 295 also stops in front of the Carlmont Village Shopping Center.
Click here for Caltrains Schedule.
Click here for SamTrans 260 Schedule.